MIDI Expression has been delivered all over the globe--a total of 37 countries and counting.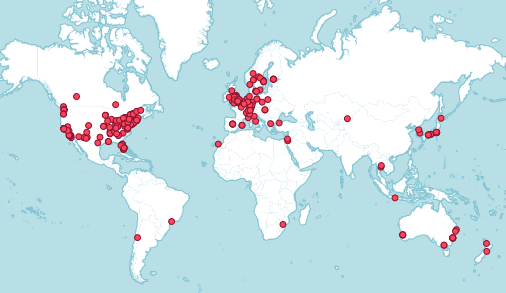 When a purchase is made, MIDI Expression is mailed out within two business days. It is sent via Registered Airmail and a tracking number is provided for monitoring its delivery progress. Depending on the country, delivery takes between 2 and 3 weeks.
Expression / Hihat Pedals

Control Change (CC)
Pitch Bend
Note Mode

Sustain / Footswitch Pedals

Control Change (CC)
Program Change (PC)
Note On / Off
CC INC / DEC
PC INC / DEC
Dual CC
Yes, you can. While you can connect as many devices as you wish, the MIDI Expression Control application currently only supports configuring up to four devices at one time.

Yes, it does. When using a sustain pedal or footswitch in CC toggle or INC / DEC modes, MIDI Expression monitors its MIDI IN port and updates its values accordingly. This means that if you are using MIDI Expression to control your DAW, changes you make with the mouse can be sent to the device so that the two are always in sync.
No, it doesn't. The device it fully functional without it. The control application merely serves as a user friendly interface for 'programming' the presets that are stored and run on the physical device itself. Furthermore, the Control Application does not communicate via MIDI, allowing the control application to run even when the MIDI Expression is in use by a MIDI application such as a DAW.
Yes. MIDI Expression is class compliant so it will run on Linux. However there is no Control Application for Linux at this moment so adjusting the presets is not possible.




Yes. The Control Application is availble as a standalone application or as a plugin and is fully functional on 32bit and 64bit versions of Windows and OSX.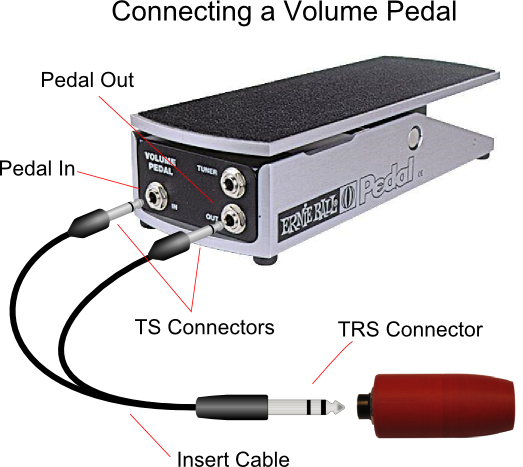 Yes, but you'll only get good results from pedals with pots of 50k and less. To connect the pedal to MIDI Expression you will need to use an insert cable. Check out the diagram above.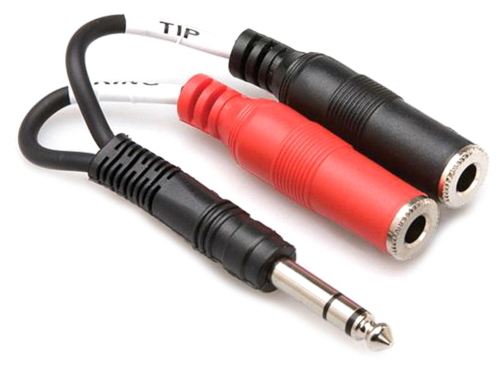 Yes, it is possible, but you will need an adapter to combine the two TS jacks from the sustain pedals into a single TRS jack. When setup this way, the input needs to be set to footswitch with the Control Application.

The adapter above is a HOSA YPP117.
If you are unsatisfied with your MIDI Expression device, it can be return within a month after the purchase date for a full refund.
MIDI Expression devices also carry a one year warranty. Should the device malfunction within a year, it will be replaced free of charge.
Should a customer need to return a purchase, he or she will need to arrange shipping. Replacement devices will be mailed out free of charge.